This is a pie I make for my family, its my oldest son's favourite meal and asks for it every day :)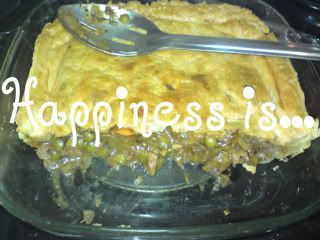 Ingredients:
1 Roll puff pastry
500g steak (I use cubed stewing steak cut into small pieces)
1 Small onion
1 small sweet potato, cut into small cubes
Quarter cup peas
1 large carrot, sliced
1 packed brown onion soup
Half cup water
1 Egg beaten
Marinade:
Half cup fruit chutney
Half cup coke
Quarter cup tomato sauce
Teaspoon dried sweet basil
Teaspoon dried parsley
Salt and pepper
Mix all the marinate ingredients and coat the meat, let it rest in an airtight container over night for best results, I make mine in the morning and use it that evening.
Preheat oven to 180*C
Roll out puff pastry and line the bottom of a greased oven proof dish. Leave enough pastry to use as a cover once the meat mixture is added.
Saute onions till translucent
Add meat and cook till halfway done
Add vegetables, brown onion soup and water and simmer till the sweet potato starts so soften, but not cooked through
Spoon the mixture into the pastry lined dished and cover with remaining pastry, seal the edges and prick with a fork to allow excess steam to escape
Brush the egg onto the pastry "lid"
Bake for 1 hour